VIRTUAL SCHOOL ASSEMBLIES NOW AVAILABLE!!
He may not be from another planet, but the rope jumping feats he performs are certainly out of this world. This is not your little sister's game of "Skip-To-My-Lou."
The Rope Warrior -professional athlete/entertainer/author - is a lean, mean, jumping machine who executes stunts that most of us can't even imagine-using a jump rope, and is the current Guinness World Record holder for the most "Rump Jumps" (jumping rope while reclining on his bottom) in one minute: 56.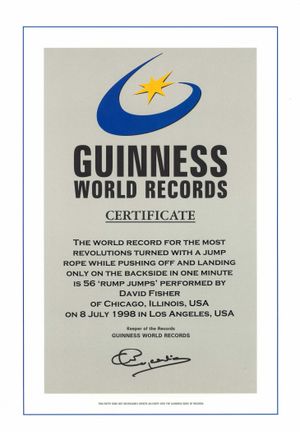 The subject of a recent feature story on Ripley's Believe It or Not!, he performs at over 15 school assemblies nationwide per week during the school year (reaching over 5,000 kids per week) as well as at an assortment of public events and private parties.
A Double A volleyball player at Emory University in Atlanta, he trained using a jump rope (as he says, "I started out jumping rope to get into shape, and fell in love with the sport") and has since turned the recreational activity into his full-time profession, becoming a physical fitness "super-hero" who promotes wellness and creative physical fitness, or, as Fisher puts it, "Thinking outside the loop."
Fisher is president of The Rope Warrior, Inc.™, and the originator of Ropenastics™, an exciting program that incorporates rope jumping, rhythmic gymnastics, dance, martial arts and aerobics into a fun, creative and beneficial cardiovascular activity. Says Fisher, "Ropenastics™ workshops stress the themes of teamwork, overcoming the fear of failure, and putting creativity and fun into fitness. It's a very inclusive activity; even non-jumpers feel good about what they have accomplished. Rope-jumping is fast becoming the hottest aerobic exercise around."
He started out by performing in-school demonstrations in 1993, and has since been chosen to perform Ropenastics™
at the 1997 Presidential Inaugural Parade festivities in front of spectators, an International television audience, and President Clinton, Vice-President Gore          

and their families and at President Bush's 2001 Inaugural Parade. Fisher also performed at the opening ceremonies of the Summer 1994 Goodwill Games in St. Petersburg, Russia for an audience of over 80,000 that included Russian President Boris Yeltsin. In July of 1997, Fisher was invited to Malaysia to perform his rope jumping feats for audiences on behalf of the Malta Energy Challenge. 

A member of The United States Amateur Jump Rope Federation, Fisher doesn't limit himself to school playground-variety jump roping; his amazing repertoire includes such razzle-dazzle techniques as: glow-in-the-dark ropes; power jumping, where the rope passes under his feet up to four times per jump; jumping rope while sitting and lying on the floor ("rump jumps" or "tush-ups"); rope-jumping versions of practically any dance step; dribbling a ball with his feet while jumping rope; and jumping rope while encased in a human-sized balloon (kids: don't try this at home) -- all to a background of pulsating, contemporary music. His rope speed has been timed at over 100 mph.
Fisher has two Ropenastics™ videos on the market: Ropenastics™ Workout, an innovative and challenging workout designed for all skill levels, and Ropenastics™ Skills, where children of all ages (as well as adults) can learn 50 of the Rope Warrior's coolest tricks, including: The Pretzel, The Spinning Step-Through, and The Houdini. Fisher has also completed two in his series of sci-fi children's books, Adventures of the Rope Warrior: A Legend is Launched and Adventures of the Rope Warrior: Survival of the Fit, geared to ages 8-13, which feature a super hero who uses his laser-like rope to combat the bad guys.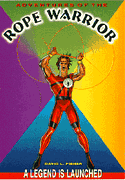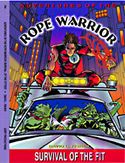 Fisher's burgeoning business also markets companion pieces to his Ropenastics™ program, including official Rope Warrior speed ropes™, Skipp Comp™ digital jump ropes, instruction booklets, posters, trading cards and apparel.
Says Fisher, "I believe that rope jumping is becoming a pop culture phenomenon, like break-dancing. It's inexpensive, portable, and infinite in its creative possibilities, and is one of the best cardiovascular workouts one can get (As proof of this, Fisher's resting heart rate has been measured as low as 27 beats per minute -very strong and efficient). Anyone can do Ropenastics™. I want to open people's eyes to rope jumping, and take what I have been doing for the last nineteen years to a national level through a super-hero kids TV show, and a national exercise program."